Print ISSN 0035-6298 • Online ISSN 2284-2578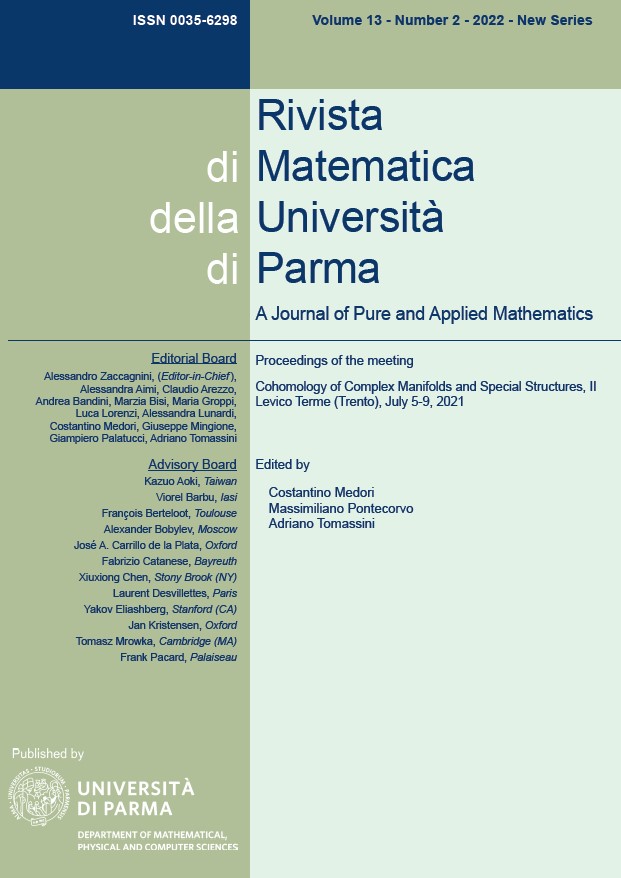 Current issue Volume 13, Number 2, 2022 (current)
Rivista di Matematica della Università di Parma is a peer-reviewed journal, published by the Department of Mathematical, Physical and Computer Sciences at the University of Parma. Is devoted to publication of original research and survey papers in all areas of pure and applied mathematics. All articles will be examined by at least one anonymous international Referee (single blind peer review).
Typically, one volume is published each year, and each volume consists of two issues. Usually one of them is a special-purpose issue (e.g. Proceedings M&MKT).
No payment is required from the submitters for the publication of their work. Rivista di Matematica della Università di Parma does not have article processing or article submission charges.
All digital contents starting from first edition of 1950 available online. Full-text free available online after 5 years.
Abstracted / indexed in
Scopus
Web of Science (Emerging Sources Citation Index)
MathSciNet
Zentralblatt Math
Announcements

Alessandro Zaccagnini, Associate Professor at the Department of Mathematical, Physical and Computer Sciences of the University of Parma, is the new Editor-in-Chief of Rivista
Posted: Jan. 2021
Rivista has been selected as a Reference List Journal in the MathSciNet Citation Database, starting from the papers published in Volume 3 (2000) of Serie 6.
Posted: Nov. 2018